---
You will never run out of problems…and that's GREAT news!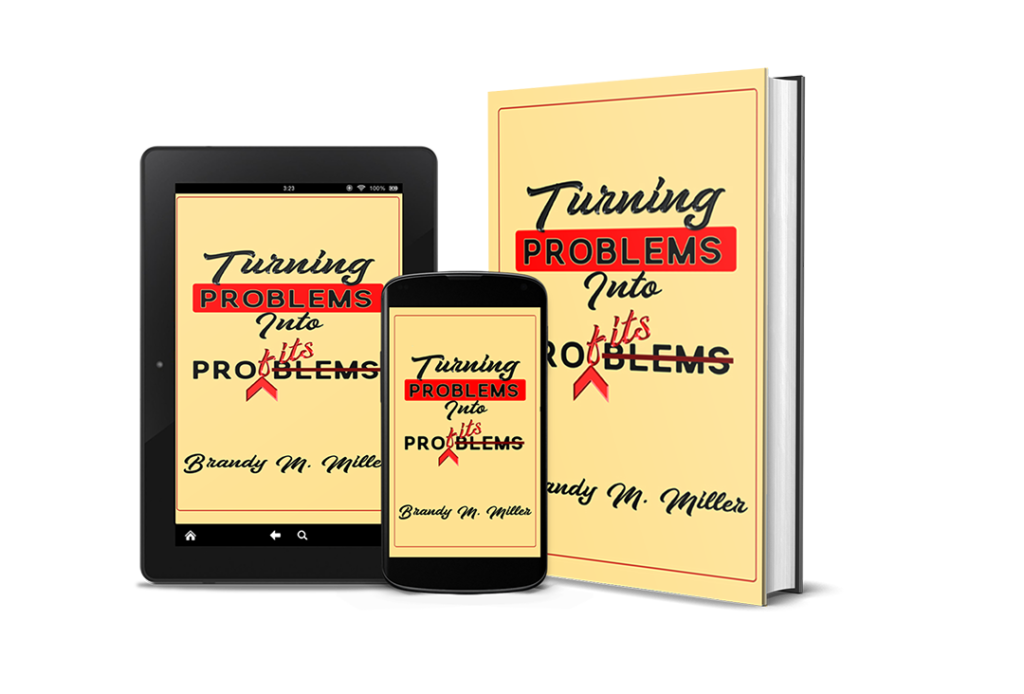 If you've got 99 problems, opportunities to profit isn't one of them. This book will walk you through a step-by-step system to turn your past problems into profits that you can spend to help you solve today's problems.
No marketing budget? No problem. No niche? No problem. No website? No problem. No social media presence? No problem.
This book is going to teach you how to get up and running on a $0 marketing budget using just what you've got today. Based on the author's own experiences of starting a business with no established audience, no testimonials, no reviews, no website, no social media presence and no marketing budget, she'll teach you the strategies she used to go from $0 to multiple thousands of dollars in just a short time.
If you're feeling overwhelmed by the amount of problems you face, depressed because it seems like there's no way out, and you're desperate for something to give you hope, author Brandy M. Miller is here to deliver.
This practical guide is designed to give you the step-by-step guidance you need to take the past problems you've faced and turn those into profits you can use to solve the problems of today in just 20 steps.
You'll learn how to:
Identify the people who need your solution most
Find your competition and figure out what you offer your audience that they can't
Determine the value your solution brings so you know how to price it
Create a system that will help you make more, get more, and do more with your solution
---
What Readers Are Saying
---
5.0 out of 5 stars A real treasure! Reviewed in the United States on December 14, 2019
This book is a real treasure! It gives you a process to uncover your hidden story and a new angle to look at yourself! It takes you from uncertainty to success with a stress-free clear defined step-by-step roadmap that will lead you to your financial security and freedom! Easy to read and easy to follow!
---
5.0 out of 5 stars Methodological Reviewed in the United Kingdom on 14 June 2023
In my view the book provides guidance to find answers to two important questions: 1. How to choose the problem I solved which could be converted to business; 2. How to convert the solution of the problem to business. I recommend this book especially to people who want to start their business but do not know what and how.
---
5.0 out of 5 stars Solid basic information Reviewed in the United States on June 16, 2023
The book presents solid basic information necessary for every business venture to succeed. None of the information is new or earth-shattering, but the information is well- presented and solid in every way. A great place to start, and also a place to reminded about what will bring success.
---
Kuldip Rai
5.0 out of 5 stars Illuminating Case Studies Reviewed in Canada on June 17, 2023
This book offers information for succeeding in life and any business endeavor. It explores the nature of money, looking at whether it can solve problems or not and whether it is a force for good or evil.
The author examines the art of selling solutions and packaging them while discussing personal setbacks and victories along the road. The emphasis changes to investment in the book's last section, which is supported by seven illuminating case studies.
Even if the data may not be ground-breaking, it is presented in an engaging and trustworthy way. This book is a great place to start and a helpful reminder of the important elements that contribute to turning problems into profits.
---
5.0 out of 5 stars Relatable & Realistic Reviewed in the United States on June 18, 2023
We all like to hear real stories, experiences, and methodologies. On top of that, we want to see small, relatable, and achievable accounts of people making money through their experience. Try this book for someone who wants to start a side gig and looking for relatable stories and pragmatic learnings.